Responsive Website Development
Don't lose your visitors because your site doesn't display well on a smart phone. All of our website designs use Responsive Layouts. They 'adapt' to viewer screen sizes automatically!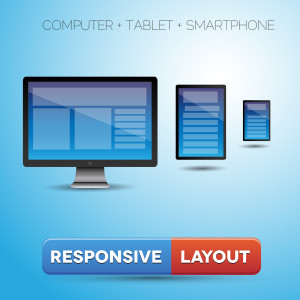 If your website doesn't look good on a Smart Phone, you will lose site visitors! We use Responsive Website Designs that make your website look great on any device. Our custom mobile website designs will capture the minds of your audience while maintaining your company's brand image.
We can design a simple website that asks visitors to contact you or a very large e-Commerce website with thousands of products to sell. We handle both, and everything in between. We will design a professional looking website using a great team of website designers and development programmers.
We can code the site natively, or give it to you in an easy to update format using Content Management Systems or Blogging Systems like; WordPress, Joomla, Drupal and many more. If you want to build your own site we offer hosting with a website builder tool and free templates! There are 100's of ways to get a great website that you can edit if you desire.
You'll find our prices are reasonable and based on the size and complexity of the site.